Welcome to Toews Power (Formerly Fred Toews Electric)
Formerly Fred Toews Electric, Toews Power was established in 1975 as a one man operation under the name of Fred Toews Electric. Since then we have grown into an Electrical Contracting and Maintenance business serving a broad range of clientele in the agricultural, residential, and business sectors.
Today wind and solar energy generation has become a viable alternative or supplement to utility power. Through research, training, and experience we have developed an expertise in these fields over the last 20 years.
We provide a full service in design, installation, and maintenance in renewable energy generation, as well as standby power systems under the name of Toews Power.
We are looking forward to serving you, as we have many other satisfied customers, in our past 43 years of business!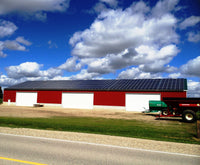 Contact Us!
42507 Kirkton Road, RR#1
Kirkton, ON, N0K 1K0
Phone: (519) 229-6108
Toll-Free: 877-220-9728
Fax: (519) 229-6523
Email: sales@toewspower.com
Hours: Monday - Friday 7:00 am - 5:00pm
Closed Saturday & Sunday